UAE Vice President, Prime Minister and Ruler of Dubai His Highness Sheikh Mohammed bin Rashid Al Maktoum paid a visit to Nakheel headquarters in Dubai where he was briefed on the company's future investment projects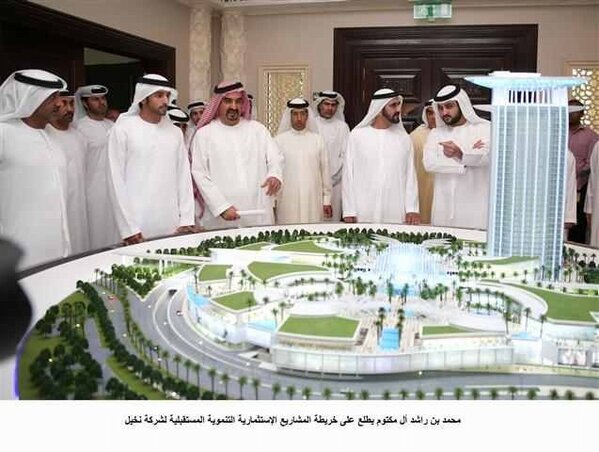 Sheikh Mohammed ordered that necessary measures be taken to commence the implementation of the 'Nakheel Mall' project located on the beachfront of the Palm Jumeirah at a cost of AED2.5 billion. Additionally, His Highness also ordered the commencement of 'The Pointe' project which overlooks the Jumeirah Beach Hotel and the Atlantis resort at a cost of AED800 million.
Accompanying Sheikh Mohammed on his visit to the Nakheel headquarters were Dubai Crown Prince Sheikh Hamdan bin Mohammed bin Rashid Al Maktoum, Dubai Deputy Ruler Sheikh Maktoum bin Mohammed bin Rashid Al Maktoum, Chairman of Dubai Civil Aviation and Chief Executive of Emirates Group Sheikh Ahmed bin Saeed Al Maktoum, Sheikh Saeed bin Maktoum bin Juma Al Maktoum, Director of Dubai Ruler's Court Mohammed Ibrahim Al Shebani and Dubai Director of Protocol and Hospitality Khalifa Saeed Suleiman.
Nakheel Chairman Ali Rashid Lootah presented a detailed briefing to Sheikh Mohammed on the two new projects including amenities, landscaping, project designs and premium services to be offered. The visiting delegation also watched a video presentation about the projects.
The 'Nakheel Mall', with its exquisite view of Al Ittihad Garden and the Atlantis at the Palm Jumeirah will be built on an area of one million square feet and will feature a 200-room state-of-the-art hotel, 200 hotel apartments and a restaurant with a panoramic sea view.
Nakheel Chairman briefed Sheikh Mohammed and his accompanying delegation on 'The Pointe,' which is considered a new destination for dining and relaxed entertainment located at one of the most iconic locations in Dubai; Palm Jumeirah. Located at the tip of The Palm just across the bay from Atlantis, 'The Pointe,' is a large scale complex nestled among gardens and the inner calm waters of the bay boasting a combination of bustling retail shops, high end restaurants as well as an exciting mix of cafes and patisseries.
Lootah took note of Sheikh Mohammed's suggestions on including additional elements to the designs which add to the appeal of the new projects.
Sheikh Mohammed expressed satisfaction with the new projects and said, "We to continue in the path of excellence… as Dubai always have."
Continuing his visit, Sheikh Mohammed and the accompanying delegation toured Nakheel offices, sales hall and was briefed on the progress at different projects carried out by the company. His Highness also greeted customers present at the premise.
Lootah thanked Sheikh Mohammed on his continuous support and his guidance that helped Nakheel regain its leading position as a master developer of real estate, tourist and commercial projects